Iberia Brings you "The Warmth of Christmas"
Christmas sweets, the typical ring pastry for Epiphany but containing Avios along with trinkets, plus specially decorated headrests, and a letters to the Three Wise Men who distribute presents in the Spanish speaking world –these are all aspects of Iberia's Christmas plans.
Business passengers will enjoy festive holiday meals and receive small gifts.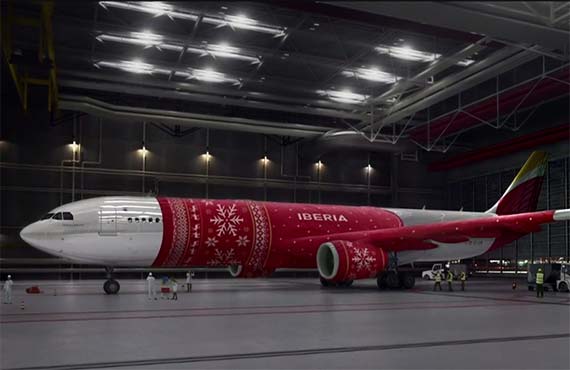 This year Iberia will regale its customers with an original video whose protagonist is an airplane wearing a winter jumper, under the them "Feel the Warmth of Christmas".
Subscribers to Iberia's profiles on the social media can see this original animated greeting card, which shows how Iberia designed the jumper so people flying will Iberia this season may feel the warmth of Christmas while they fly. Click here or on the picture to view the video:
Roscón de Reyes pastry with Avios
In addition to this unusual Christmas greeting, Iberia will offer its passengers Christmas cakes and sweets on flights taking place on 24-25 and 31 December. Between 23 December and 4 January the youngest passengers will be given special stationery for writing their letters to the "Three Kings" or wise men, who bring presents on 12th Night or Epiphany –6 January. On 5 January passengers will be served the traditional Roscón de Reyes or "Kings' Ring" pastry. Amongst the trinkets baked into the pasty, there will be special surprises for two lucky passengers, one of 50,000 Avios and another of 100,000. The smaller prize will be enough to pay for a return flight for two to any of Iberia's European destination, and the larger one will cover travel for two to almost any long-haul destination --New York, Boston, Chicago, or Los Angeles in the USA; or almost any Latin American country, including Colombia, Guatemala, Cuba, Brazil, Costa Rica, Peru, and Ecuador.
Iberia's aircraft will be supplied with special holiday headrest covers during the holiday season, and long-haul business passengers will get special toilet kits, while long-haul economy passengers will be served special holiday snacks.
Christmas in Business Class
Festive holiday meals served to long-haul business passengers will include foie gras, sirloin steak with honey sauce, stuffed pasta with cava and blueberry sauce, turbot with souquet sauce, and dessert of turron (almond sweet) cake with citrus topping.
Passengers flying on 21-23 December will be given an aromatic candle with the Iberia Mediterráneo aroma.