Iberia to Sponsor 2014 FIBA Basketball World Cup and Spanish National Team
Under an agreement signed by the presidents of Iberia and the National Spanish Basketball Federation, witnessed by José Manuel Calderón, a player on the national team.
Iberia will operate several special flights to transport the Spanish and U.S. teams.
Spanish-born NBA star Pau Gasol will be featured in the September issue of the in-flight magazine Ronda Iberia. In the interview he says "Spain is one of the favourites. The team we have and its record speak for themselves".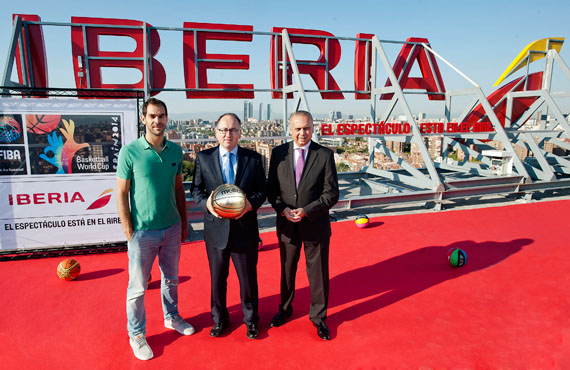 Gallego said "Iberia's support for Spanish sport and its value is unconditional. The quality of the players, their efforts, and their teamwork have given Spain's national team and international reputation, and at this tournament we expect to see them reach new heights."
Sáez said "the Federation's aim is to work alongside the best travelling companions, and Iberia is the safest of bets, plus it has always supported basketball and could hardly be absent from an event of this magnitude in Spain."
The deal was signed at Iberia's headquarters this morning, witnessed by national team player 
José Manuel Calderón
.
Iberia will be the official airline of the Spanish team, which it will fly to any from preparatory games in Istanbul, the Canary Islands, Barcelona and Madrid. During the tournament itself, Iberia will also fly the U.S. national team from Bilbao to Barcelona and from there to Madrid.
The September issue of the Spanish airline's in-flight magazine Ronda Iberia will feature an interview with 
Pau Gasol
, the Spanish NBA star who recently left the Los Angels Lakers to sign with the Chicago Bulls. In the interview, Gasol said
"Spain is one of the favourites. The team we have and its record speak for themselves."