Iberia Honours Spanish sportsmen and sportwomen with Iberia Singular Card
Carolina Marín, Javier Fernández, Mireia Belmonte, Ona Carbonell, Miguel Ángel López, Fátima Gálvez, Garbiñe Muguruza, Ruth Beitia, Marina Alabau, Joel González y Javier Gómez Noya are the champions chosen.

The inititiative comes under a new cooperation agreement between Iberia and the government sports agency Consejo Superior de Deportes (CSD) to ensure the best travel conditions for Spain's sporting elite.

The eleven medallists were issued the airline's exclusive Iberia Singular card, to make each flight a memorable and unique experience.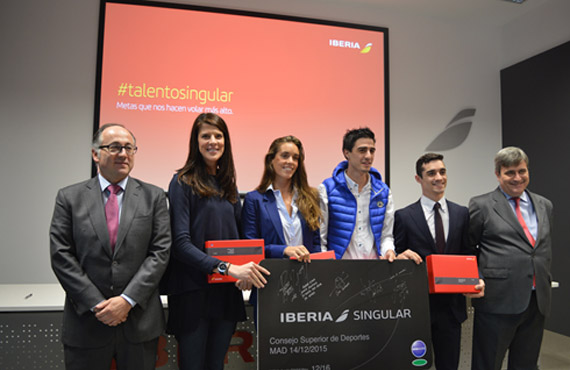 Eleven active medal-winning Spanish sports personalities have been issued a special card, the Iberia Singular, its most exclusive FF card.
The cards were issued to Carolina Marín, world badminton champion in 2014 and 2015; Javier Fernández, world figure skating champion in 2015; Mireia Belmonte, world swimming champion in 2012; Ona Carbonell, captain of Spain's synchronised swimming team; racewalker Miguel Ángel López and highjumper Ruth Beitia, voted Spain's best athletes in 2015; Fátima Gálvez, Olympic trap shooting champion; Garbiñe Muguruza, number three in the Women's Tennis Association (WTA) rankings; Marina Alabau, Olympic windsurf champion; Joel González, Olympic taekwondo champion; y Javier Gómez Noya, five-time world champion in the triathlon.
Iberia
 gave them the cards to honour them for their singular achievements.
The cards were issued at a ceremony at Iberia's headquarters in Madrid- and was attended by Javier Fernández, Ruth Beitia, Joel González and Ona Carbonell.
At the ceremony, Iberia Chairman and CEO, Luis Gallego said: "talent is in your DNA, and you show it every time you set a goal, believe in it, and achieve it with effort and dedication. This makes you singular individuals, real heroes to Iberia as individuals and as a company, inspiring us to reach our own goals." 
Also attending the ceremony was head of the CSD national sports agency, Miguel Cardenal, who said: "I want to congratulate both parties to the agreement we're signing today to seek a fruitful alliance of these two very different spheres of our public life. Iberia couldn't have better ambassadors than the athletes who are receiving their Singular cards today. They represent Spain's brand and companies which, like this airline, decide to join their competitive struggle, all year long and in the farthest corners of the world. Thanks to the athletes' triumphs and the image of excellence they convey to our citizens, as well as to their successes, we have managed to bring off initiatives like this one that converts their sporting excellence into a personal and business advantage."
Cooperation Agreement Between Iberia and the CSD
The initiative comes in the framework of a new cooperation agreement between Iberia and the CSD to improve travel conditions for Spain's sporting elite, whereby Iberia can show its recognition of and support for Spanish competitors, who can how enjoy each of their flights with Iberia as a unique experience.
Iberia Plus Singular cardholders get free VIP parking at Madrid and Barcelona airports, a larger luggage allowance, check-in at Business Class counters, fast-track airport security procedures, access to VIP lounges, and priority boarding. *